According to the World Health Organization (WHO) nutrition is one of the factors that most affect people's development, performance and productivity, quality of life and the psycho-physical conditions with which aging is faced. In addition, a correct diet is a very valuable tool for prevention for many diseases and treatment for many others. This also applies to our dogs and cats and it is precisely on this foundation that NATURINA has always worked to ensure that their products guarantee the greatest possible well-being to our four-legged friends naturally and without forcing their biology. The use of natural ingredients, first choice and without synthetic preservatives is therefore the basis of our company philosophy. In addition, the constant collaboration with Veterinary Nutritionists allows us to guarantee the best veterinary formulations for the health of our beloved dogs and cats: a healthy animal will also be a happy animal!
ELITE LINE
Elite' NATURINA line is the perfect combination of ingredient sophistication and attention to the nutritional needs of our animals. For this reason NATURINA ELITE' represents a functional product model based on the study of specific recipes based on veterinary and hypoallergenic formulas aimed at accompanying the puppy in the growth phase and the adult in everyday life.

NATURINA ELITE offers a wide range of complete and balanced dry and wet foods characterized by the highest quality ingredients and natural integrations able to perform a beneficial and therapeutic action on animal health (so-called "natural" ingredients). Nutraceuticals). The raw materials are carefully selected and come from mainly Italian certified suppliers.
All elite recipes NATURINA careful veterinary formulations, designed to ensure the daily well-being of our 4-legged friends throughout their lives. The NATURINA Bio Protection system, formulated by our nutrition veterinarians is present throughout the NATURINA ELITE CANE range, supports the immune system by strengthening its defenses, thanks to the contribution of antioxidants and natural vitamin precursors obtained from the integration of dried carrot ingredients, dried apples, dried parsley, dried peppermint, dried green tea leaves, dried red blueberry, dried black blueberry.
All fats in elite NATURINA formulas are rich in polyunsaturated fatty acids and contain a balanced intake of Ω3 and Ω6 for a shiny coat and healthy skin.
The ELITE NATURINA DRY and WET DOG range also provides a line of complete monoproteitic foods specially designed to eliminate adverse reactions to food and the disorders associated with it.
NATURINA ELITE WET CAT, of Thai origin, stands out above all for the choice of its ingredients by selecting only the best cuts of meat and fish, strictly caught in the open sea. It can also boast the integration of refined components defined as "High Quality" aimed at contributing to the well-being of our animals and attracting even the most demanding palates.
The recipes NATURINA steamed with first choice ingredients suitable for human consumption: chicken, fish, cheeses, meats, shrimps, vegetables, etc.
TUNA is caught in the open sea with methods aimed at protecting the marine ecosystem without harming other animal species (DOLPHIN SAFE). Of tuna we use only the most valuable parts (so-so-so-good white meats)!
CHICKEN comes from controlled and certified farms (HORMONE FREE) where antibiotics, hormones and steroids are not used to accelerate growth. Of the chicken we use only the best part, the chest!
Elite' NATURINA line is free of synthetic preservatives and dyes. It is entirely produced in Italy and Cruelty Free.
FRESH LINE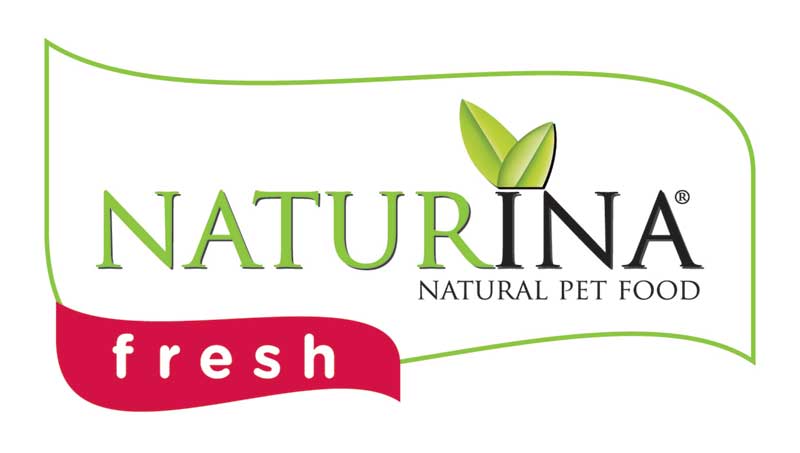 NATURINA® wet cat FRESH line is made with natural steamed ingredients with the addition of vitamin and taurine supplements. They are preserved in a delicious sauce that makes the products very appetizing and much appreciated even by the most demanding cats. NATURINA® FRESH products are made of whole fillets of chopped tuna or chicken fillets enriched with vegetables, meat or fish according to each recipe.
TUNA is caught in the open sea with methods aimed at protecting the marine ecosystem without damaging dolphins (dolphin safe method). We use whole tuna fillets (with black and white parts) which is then chopped into slices to make it easier to chew.
CHICKEN comes from controlled and certified farms that do not use antibiotics, hormones and steroids to accelerate growth. We use only the best part of chicken: the breast!
Thanks to all our combinations, we manage to obtain a quality product at a very attractive price. A healthy and beautiful cat is the result of a healthy and correct diet. By choosing NATURINA® you are sure to feed your pet only with the best products.
EASY LINE

NATURINA® WET DOG AND CAT EASY trays are complete steamed foods for adult dogs and cats. The NATURINA® WET EASY formulas are mainly made with ingredients of animal origin combined with vegetables that make each product very tasty and appetizing. Besides, NATURINA ® WET DOG AND CAT EASY products include a vitamin and mineral supplement suitable for the daily needs of dogs and cats in order to provide them with a complete balanced meal for every day of the week.
NATURINA® EASY products  are quality balanced foods resulting from a careful study of their formulations and from the use of natural raw materials. We have created a line of products made of animal proteins with significant nutritional values, without the addition of GMOs, chemical or steroidal elements, preservatives and synthetic dyes. NATURINA®'s philosophy combines scientific research and quality products in order to obtain a menu rich in genuine ingredients which improve the health of our 4-legged friends.
NATURINA® uses raw materials provided by controlled suppliers that guarantee a high digestibility. As the health of our friends depends on what they eat, we select only the best ingredients. We know that the better the quality of the raw materials used, the healthier the food. An active and playful dog is the result of a healthy diet. Also other factors prove the well-being of our pets such as their energy and vitality, their skin health and the shine of their coat, the absence of dandruff, solid and compact stools. These are all elements that we always keep in mind and that we try to ensure through a constant scientific research. Besides their quality, NATURINA® EASY products are also very appetizing!